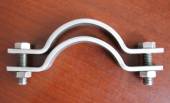 Crystal Industries offers a range of advanced specialty piping and Pipe Spool fabrication in exotic metals, Nickel alloys and low-alloy steels.
Crystal Industrial offers a range of heavy-duty pipe support systems specially designed for industrial facilities, plant engineering systems and heavy-duty building engineering systems. The heavy-duty pipe support system is always made to order and custom-manufactured with regard to the material and surface finish in accordance with customer specifications.
Different materials and surface finish processes can be combined with one another. In addition to our standard design with a hot dip galvanized surface, we also apply primed, painted and coated finishes. Our product portfolio is made complete with a special clamp system for attachment to steel structures without the need for drilling or welding. The heavy-duty pipe slides are also available in stainless steel for use in areas with increased corrosion protection requirements.