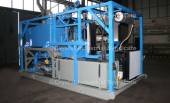 Crystal Industries offers a range of Skid Mounted Units. We provide Electrical substation which is mounted on a skid that steps down the voltage supplied to large motors used for oil & gas applications used in refineries. Each unit substation comprises three main components:
Transformer with an upper limit of 20 MVA
Incoming panel with an upper limit of 36 kV
Outgoing panel (S)
The equipment comes designed and coordinated both mechanically and electrically. Crystal Industrial specializes in installing turnkey equipment. Our customers have the advantages of interacting with a single source for design, installation, maintenance and accountability for the entire system. This offers them reduced cost of installation and ownership, along with flexibility in applications.